E-Commerce Design
Welcome to one of the UK's leading low cost ecommerce web designers. If you need a cheap ecommerce website to sell your products online, you've come to the right place.
E-Commerce Website Packages
At Appledew we operate a simple and transparent price structure.
All packages include access to a content management system (CMS) so you can edit your site once live. We also include basic SEO, 12 months web hosting and email addresses, just what you need to get your business online! The only extra is a domain, which we can arrange for you as part of your order. Please see our E-Commerce website packages below:
Our E-Commerce websites are feature rich but super user friendly
Features of Prestashop:
PrestaShop e-Commerce Solution was built to take advantage of essential Web 2.0 innovations such as dynamic AJAX-powered features and next-generation ergonomy. PrestaShop guides users through your product catalog intelligently and effortlessly, turning intrigued visitors into paying customers.
Front-office
Device responsive so seamlessly works on PC, Mac, Laptop, Tablet, Mobile devices
Special deals (price reductions, gift vouchers)
Featured products on homepage
Top sellers on homepage
New items on homepage
'Free shipping' offers
Cross-selling (Accessories)
Product image zoom
Order out-of-stock items
Customer subscription & user accounts
Unlimited payment methods
Payment by bank wire
Google Checkout module
Cash-On-Delivery (COD)
Preconfigured for Paypal™
Multiple-recipient contact form
Product tagging & tag cloud
Search
Merchandise return (RMAs) & credit slips
Package tracking
Offer gift-wrapping & recycled packaging
PDF customer invoice
Shopping Cart recall
Sale of services & virtual goods
Custom Favicon
RSS feed
Newsletter opt-in
'Pick up in-store' option
Customized product (text and images)
Wishlist
Loyal customer program
Affiliate program
Sponsor-a-friend benefit program
Customer product reviews
Back-office
Unlimited categories & subcategories
Full-featured WYSIWYG text editor
Unlimited product attribute combinations
Unlimited product specs
Unlimited images with automatic resizing & file optimization
Unlimited currencies
Unlimited tax settings
Unlimited carriers & destinations
Tax by state, country, both, zones, or no taxes
Digressive pricing (Quantity discounts)
Real-time currency exchange rates
Inventory management
SMS/Text-message alerts
Add/delete function modules
Bar codes
Contextual help
Attribute Combo Generator
Delivery status notification e-mails (customizable)
Unlimited languages & dialects
Import/export language translations
13 default language translations
Search Engine Optimization (SEO)
Friendly URLs / Permalinks
100% modifiable graphic themes
Back Office users & permissions (ACL )
Maintenance Mode
Minimum order amount
Newsletter contact export
Alias search
Bulk lister/import .CSV files
SSL (Secure Sockets Layer) encryption
Visitors online
Content Management System (CMS)
Reports
Customer groups
Ratings of Prestashop

Total
User
Guest
1538
0
1538
179
0
179
33
0
33
23
0
23
123
0
123
Average Ratings
4.57
0.00
4.57
Reviews of Prestashop
One of the best free shopping carts out there.
by a Guest – Tomer Grassiany – August 9, 2010, 5:46 am
Prestashop has been growing and improving extremely fast, both in number of users/forum members, and in development/features added.
is the best
by a Guest – palumaja – September 3, 2010, 10:08 pm
this script best of the best from other script….thanks
Amazing ecommerce solution that\'s free to use
by a Guest – Johnnie Walker – October 18, 2010, 9:23 pm
Having used PrestaShop for a number of projects I can honestly say that it is truly amazing. Everything from the installation to the configuration has been made as simple as possible
Prestashop
by a Guest – Tommy – November 9, 2010, 6:31 pm
I have used this e-commerce solution for a while now. I think this is one f the better free open source software around.
EXELENTE
by a Guest – roloval – February 8, 2011, 10:17 pm
Muchas gracias
my-shopping
by a Guest – phuket1 – February 24, 2011, 3:34 am
the best
Nice
by a Guest – Roger – March 21, 2011, 5:54 pm
Nice Product, I Like
Nice
by a Guest – cisliu – April 26, 2011, 12:02 pm
Installed several e-commerce platforms and played around with them, like Zen Cart, osCommerce, Magento and PrestaShop. All I can say is that PrestaShop truly shines out! 1) Fancy-looking admin panel, which is very easy to understand and configure. 2) Easy Language pack installation and translation modification. For me, its better than the other three I messed around a little!
Prestashop
by a Guest – laphroig – July 6, 2011, 10:59 am
Easy to (admin) use and install. Shiny. Very good!
Best
by a Guest – Ashley – August 5, 2011, 4:55 am
After trying every descently rated commerce program on here, PrestaShop is Definitely the easiest to use and the best overall. I used PrestaShop first then tried the others, and none seemed to live up to PrestaShop. Definitely. my favorite from the experiences I've had and what I was looking for.
Excellent
by a Guest – – September 25, 2011, 11:14 am
excellent and easy to use would recommend for all web developers as it is open source too. My shop has turned out fantastic. 5 stars!
Great
by a Guest – eolprodu – November 30, 2011, 12:13 am
Great software for any website trying to make a bit of money, a must download.
by a Guest – – October 21, 2011, 1:57 am
Having used PrestaShop for a number of projects I can honestly say that it is truly amazing. Everything from the installation to the configuration has been made as simple as possible.
Best
by a Guest – onemynig – February 22, 2012, 6:56 pm
I love the simipllity of the software and the freedom. a must download and work with for anyone with a store front like the jquery effects also
So
by a Guest – Matthew – February 24, 2012, 6:06 pm
I got my site up and running in about 20 minutes, all for free! 100,000 people around the world can't be wrong, and now I'm part of that number. I've tried plenty of other e-commerce software options in the past, and PrestaShop blows them all out of the water.
After
by a Guest – Nigel – June 6, 2012, 2:08 pm
I thought I'd give prestashop a try, having used osc for 10 years I was amazed by just how much better perstashop was. I was a bit suspicious when I saw all the paid for modules available, as I love open source and free, but I needn't have worried, the out of the box prestashop das everything you need to start and run a great shop. All the addons I so much loved with osc come as standard in prestashop. Just install it and see for your self, you won't be disappointed
Awesome
by a Guest – missingt – December 9, 2012, 10:37 pm
This is the best, great structure, professional looking site, not a lot of hair pulling and nail biting.
simple
by a Guest – pengepul – September 23, 2012, 5:43 am
i have 3 website are using Prestashop
Great!
by a Guest – pencbgei – March 29, 2013, 7:12 pm
I should agree with the reviews above – truly remarkable. Comes with all the features of Magento, without the ultra slow operation. Great!
Wonderful
by a Guest – lankagfm – April 21, 2013, 10:04 am
It's really easy and quick to insatall prestashop. It took me one or two minutes to finish. Fantastic.
Easy
by a Guest – freodesi – September 14, 2013, 12:26 am
It's very easy and good
excelente
by a Guest – royal – January 25, 2014, 9:52 pm
una tienda genial y facil de usar
Farid
by a Guest – kazkarmo – February 13, 2014, 8:41 pm
Nice and great
Must
by a Guest – fitfoodven – June 24, 2014, 12:16 am
I'm embarrassed to let you know I've spent days if not weeks trying the other eCommerce scripts. Missing features (Responsive theme) the lively community and the learning curve. When your site becomes as big as eBay or Amazon you'll be glad you chose the right platform to begin with. PrestaShop is my pick for all reasons mentioned and more.
Vetaran
by a Guest – goldmanf – March 16, 2014, 9:56 pm
Prestashop is great tool for the aspiring enterprenuers and alike, I still can't belief my luck, tried all other scripts Just waiting to upgrade my shops with the latest PS version 1.6 that is due to be released in the next 21 hours.
prestashop
by a Guest – marell – February 13, 2015, 3:46 am
thanks prestashop…
Screenshots of Prestashop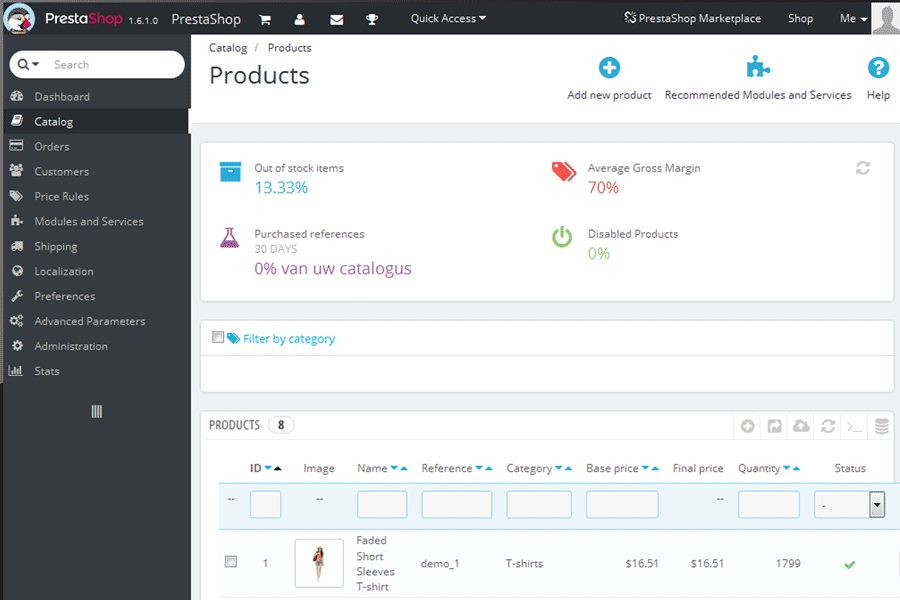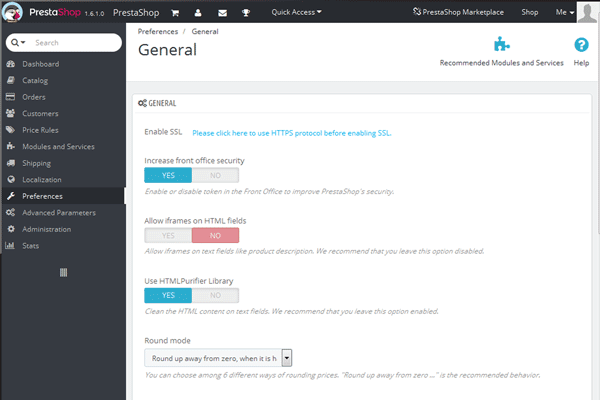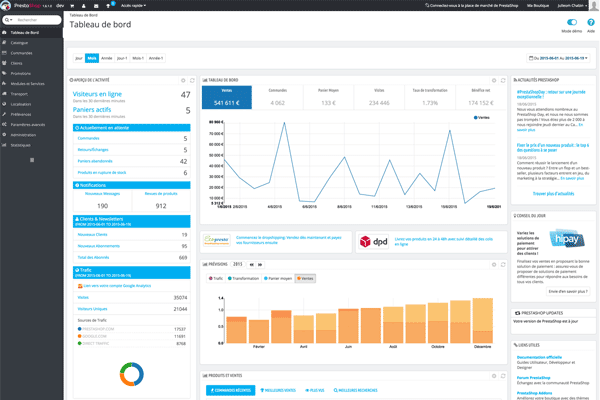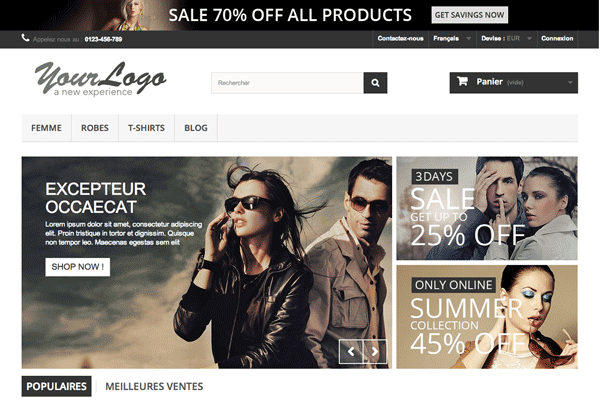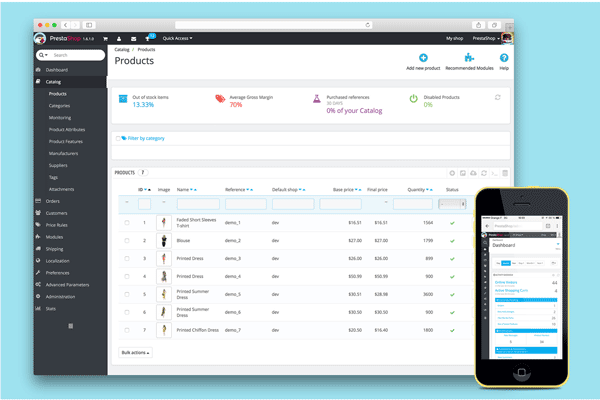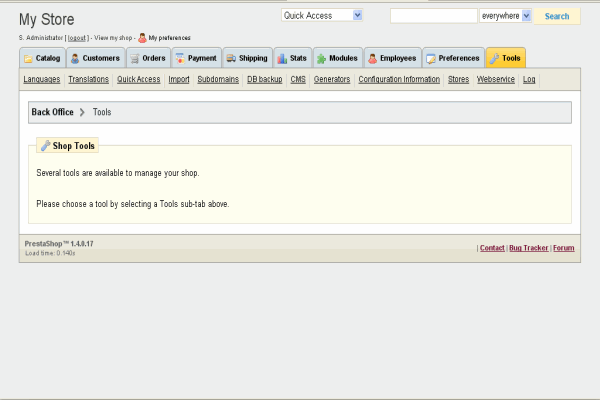 Demo of Prestashop
E-Commerce Website Design Frequently Asked Questions
We try to be as transparent as possible here at Appledew Website Design so we've compiled a list of the questions we get asked the most in order to help you make your decision. If there is anything we've missed just get in contact.
[faqs category='frequently-asked-questions-ecommerce']
Customer Testimonials
Why not sign up for one of our cheap e-commerce website design packages today?
Contact Appledew Today to get your Prestashop E-Commerced Website
Contact us today
Latest Web Design and Marketing Tips on our Blog
Put previews here
You May Also Like
Put link to other services and add ons here